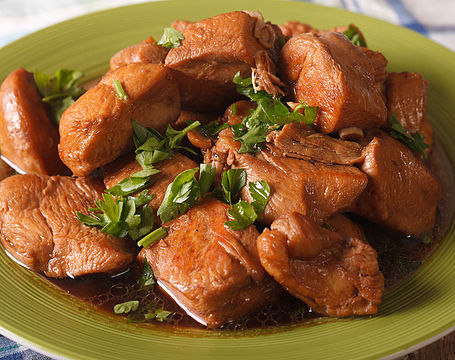 Chicken Adobo
2 pounds chicken, cut into pieces
4 tbsp soy sauce
2 tbsp vinegar
1 tbsp brown sugar
3 bay leaves
3 crushed garlic cloves
1-2 cups water
1/4 cup vegetable oil
1tsp whole peppercorn
salt

Sauté garlic in oil. Add chicken and continue sauteing until cooked. Pour soy sauce, water, vinegar, bay leaves, sugar, and pepper. Bring to boil and simmer for 10 minutes. Turn off flame. Drain the meat and fry. Bring back the fried meat in sauce. Reheat and simmer until sauce thickens. Serve with rice.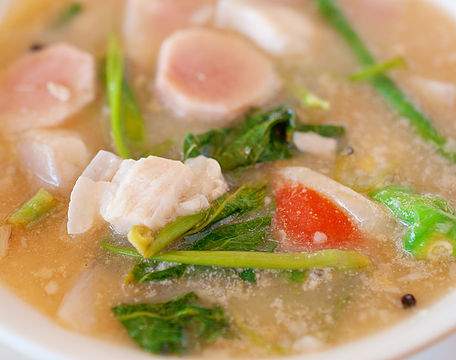 Pork Sinigang
2 pounds pork spareribs, cut into 2-inch pieces
2 medium sized tomatoes
1 red onion, peeled and quartered
4 pieces taro, peeled and halved
1 (6-inch) radish, peeled and sliced
8 long beans, cut into 3-inch pieces
1-1/2 packages tamarind base powder
1 bundle kangkong (water spinach) stalks and leaves
5-6 pieces okra, ends trimmed
2tbsp fish sauce

Place meat in pot, add enough water to cover it. Bring to a boil and remove scum. Add onion, tomatoes and fish sauce. Lower heat and cover pan. Let simmer for about one hour or until meat is tender. Add water as necessary to maintain about 10 cups. And taro and cook for about 6-8 minutes. Add radish, long beans, water spinach, and okra, and cook for another 2-4 minutes. Add tamarind base and stir until completely dissolved. Season with salt and pepper, and serve with steamed rice.